Okay, this one's a little outside of the norm in terms of garage stuff but, as many of you know by now, we love off-roading… and flying… and start-ups. So when a tip came in about a new flying side-by-side off-road vehicle, we just had to share.
They call it the SkyRunner—a dual purpose, FAA approved off-road aircraft (yes, you read that correctly) that combines the badassery that is off-roading in a side-by-side with the freedom of an ultralight aircraft.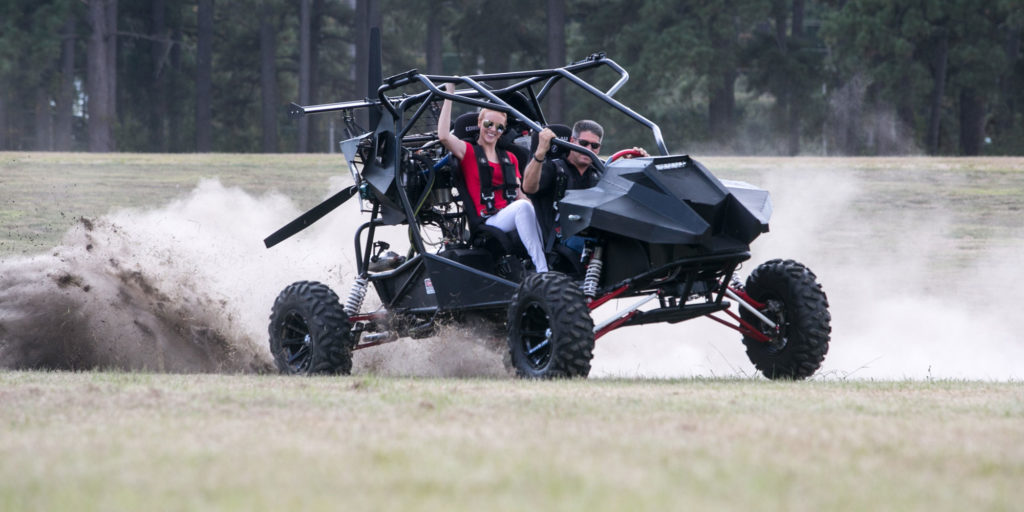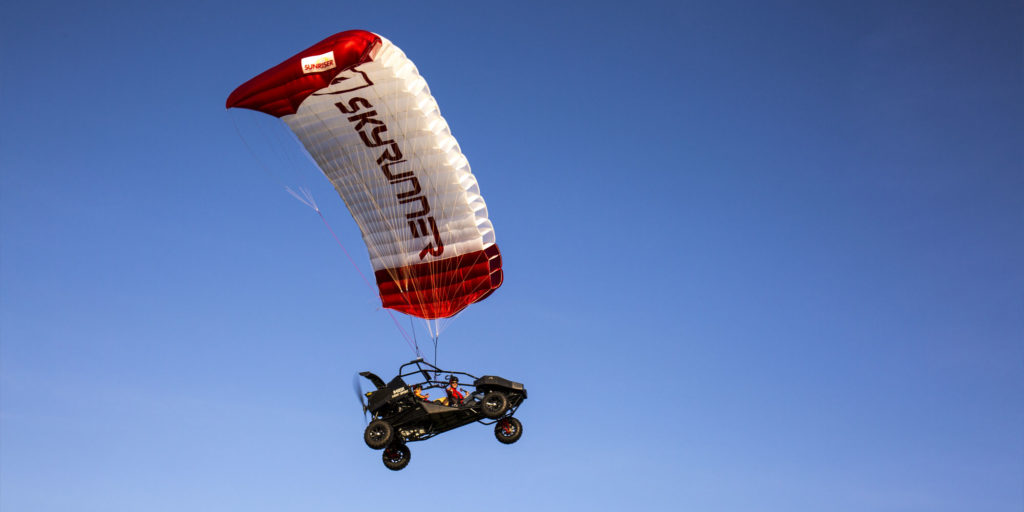 Featuring a unique dual-engine powertrain, a Polaris ProStar 1000 engine powers the ground system, while a Rotax 914 UL light-sport aircraft engine enables SkyRunner to take flight. Using the latest ram-air parafoil wing technology renowned for its safety due to inherent stability, control and resistance to stalls, SkyRunner can reach air speeds of 40 MPH for a distance of up to 120 nautical miles. When not in use, the wing conveniently folds snugly into a bag that rides behind the rear passenger.
SkyRunner's hybrid composite chassis, carbon fiber body paneling, and fighter-jet-inspired cockpit is like something out of a James Bond movie, but this ultimate adventure vehicle isn't afraid to get dirty. Maxxis Bighorn tires supply the traction and FOX Piggyback shocks are ready to tame any off-road terrain. When you're ready to bug out, there's no need to look for an asphalt runway—SkyRunner can take flight with just 450 feet of terra firma.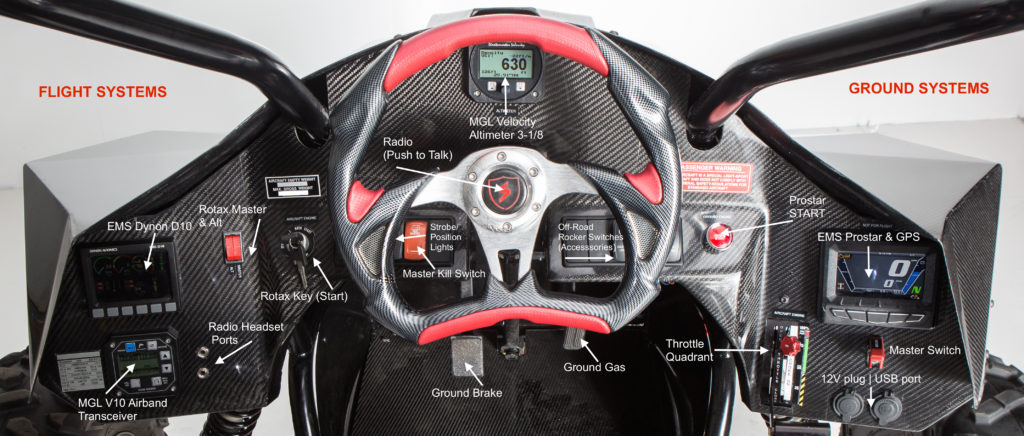 According to SkyRunner CEO, Stewart Hamel, SkyRunner was initially designed as a toy, but it soon became apparent that there was a gap the vehicle could fill as a low-cost, high-utility multimodal tool for ranchers, law enforcement, border security, and department of defense agencies. With operating costs of approximately $50 an hour, SkyRunner can go to places no pickup truck or UTV can go, and at a fraction of the cost of a helicopter.
In 2016, The Federal Aviation Administration awarded SkyRunner the coveted Special Light-Sport Aircraft classification (LSA), which caters to recreational pilots. SkyRunner is factory built and a ready-to-fly aircraft. An off-road enthusiast can earn a Sport Pilot's license in eight days and just 12 hours of flight training. According to Hamel, Sport pilots can legally and safely use 98% of U.S. airspace without having to talk to air traffic controllers. No Airports are required to fly the SkyRunner.
SkyRunner retails for $139,000 [gulp!] and is available today for purchase, directly from the factory. A network of SkyRunner Authorized Dealers will be in place in the south and southwest later this year.
Here's a video that'll make you want to cash in your 401k, wedding ring, car, and kid to get one of these beasts:
Learn more at FlySkyRunner.com.