UPDATE: EngagedMediaMags.com is no longer available.
Engaged Media, the team behind magazines like Maximum Drive, Drag Racer, Street Trucks, Gun World and others (including Romantic Homes, if that's your thing), recently launched their newest publication targeting the 'trail-ready culture' aptly titled, Tread.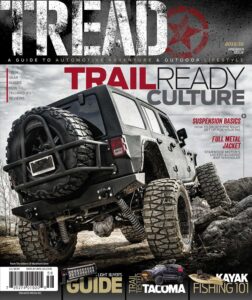 We dove into the premier issue, which covers Winter 2015/2016 and liked what we saw, albeit some of its content did feel a bit humdrum given its target audience, which we assume to be those who love the outdoors and tearing up the trails (responsibly, of course!). Meaning, for a first issue, they're offering basic 101 information on suspensions, LED lighting, managing various trail obstacles and other stuff that you can find much more detailed insights and experiences on around the web.
Where Tread is different is that if covers everything from off-roading, truck equipment, knives, trail-ready bikes, bug-out kits and of course, Jeeps—there are a LOT of Jeeps in this first edition. Of course, I'm a Jeep fanatic, so I love it. I'm also a photographer and this magazine has some very nice photography.
We'd offer more on subscriptions, but I'm not sure you can subscribe yet as perhaps they're just kickin' the tires. Even their website was under construction at the time of this writing. Either way, we like it and can't wait to see more from Tread.