If you've been following us here at GarageSpot.com (or on Instagram and Facebook) for a while, you probably know that we really love our Jeeps and off-roading, as do many of you. And here in North Florida, there's plenty of sand and mud to get stuck in.
When it comes to off-road recovery, many of us are using standard 3/4″ steel D-ring or "bow" shackles to connect our winch lines and recovery ropes to other vehicles or to something like a tree strap. D-rings typically have a working load limit of around 9500 lbs, which is acceptable for most recovery applications. But D-rings are slower to use, especially when a pin seizes up. And then there are those times when you drop a steel shackle or its pin in the water or mud during recovery and make up a few new cuss words as you skim the nasty surface below looking for it with your bare hands.
Bubba Rope has a solution: The Bubba Rope NexGen PRO Gator-Jaw Synthetic Shackle. It's much faster to deploy, much safer to use, much stronger than most steel shackles, AND it's made in the USA! Good stuff.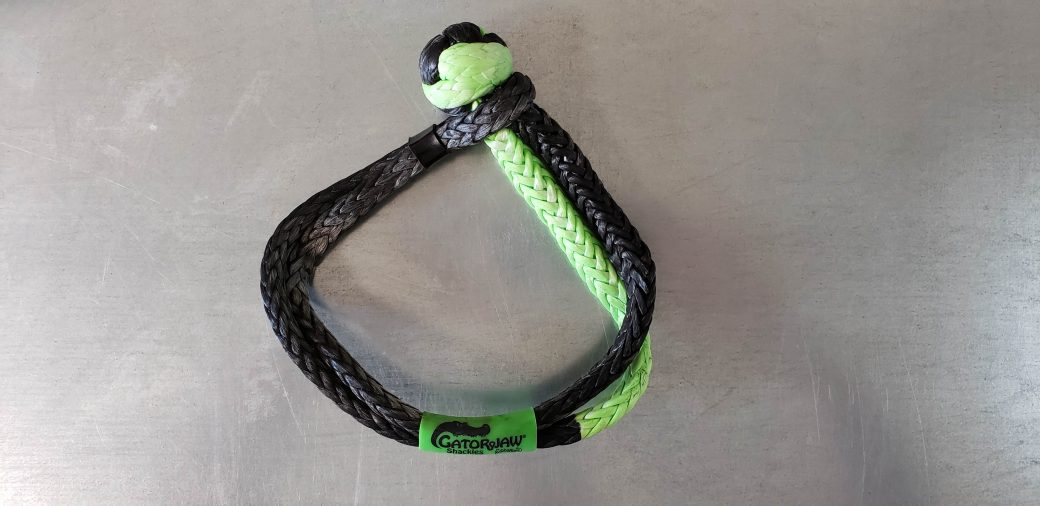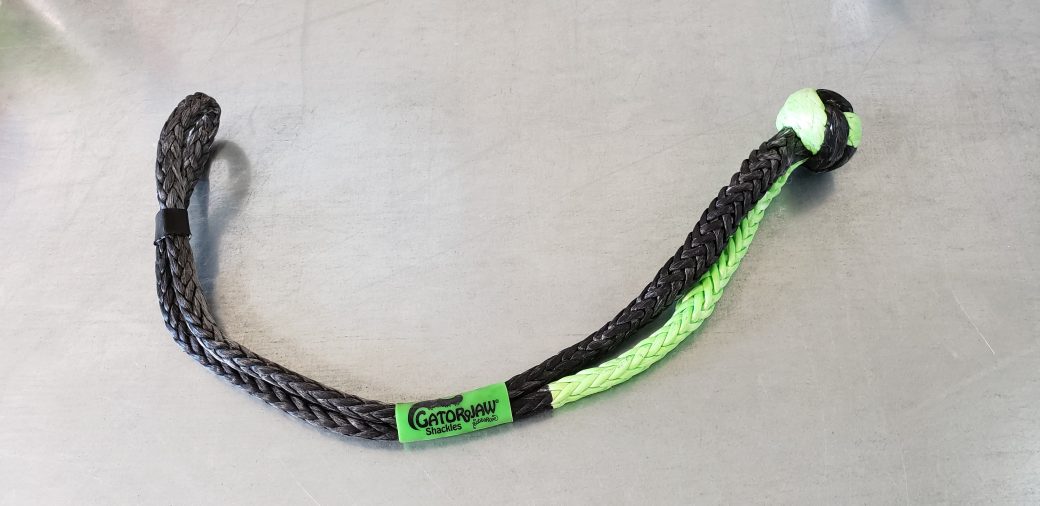 Design & Build Quality
In the hands, the Gator-Jaw feels solid yet very light. At just 6½ ounces, it's almost 10-times lighter than a common steel shackle. It also floats, which is a huge plus when you're dealing with a recovery in muddy water and the recovery point you need to hook-up to is actually under that water.
The Bubba Rope NexGen PRO Gator-Jaw Synthetic Shackle forms a 6″ bow and is made with a vinyl coated, UV protected, and abrasion-resistant 3/8″ HMPE synthetic rope with a rated breaking strength of 47,000 lbs—almost five times that of standard steel D-rings. Although we didn't conduct any kind of torture test on our shackles, we are confident in saying that the product is very strong and did indeed handle all of the various recovery tests (and a real one) that we threw at it over the course of a few weeks.
When we first used our Gator-Jaws, we were a bit concerned that the recovery point on our second vehicle was too sharp around the edges for a soft shackle to survive cuts and abrasions from an aggressive recovery. Given the strength of HMPE materials, however, we weren't really worried about an all-out failure, but we didn't want to mar or fray it when we didn't need to because that would eventually affect the integrity of the rope.
So, we did attach our Gator-Jaw to a D-ring in one scenario, which obviously—based on the specs of the Gator-Jaw—makes the D-ring the weakest link in the recovery chain. Still, the math worked in our favor given the weight of both vehicles, so we were OK with the setup in that particular case.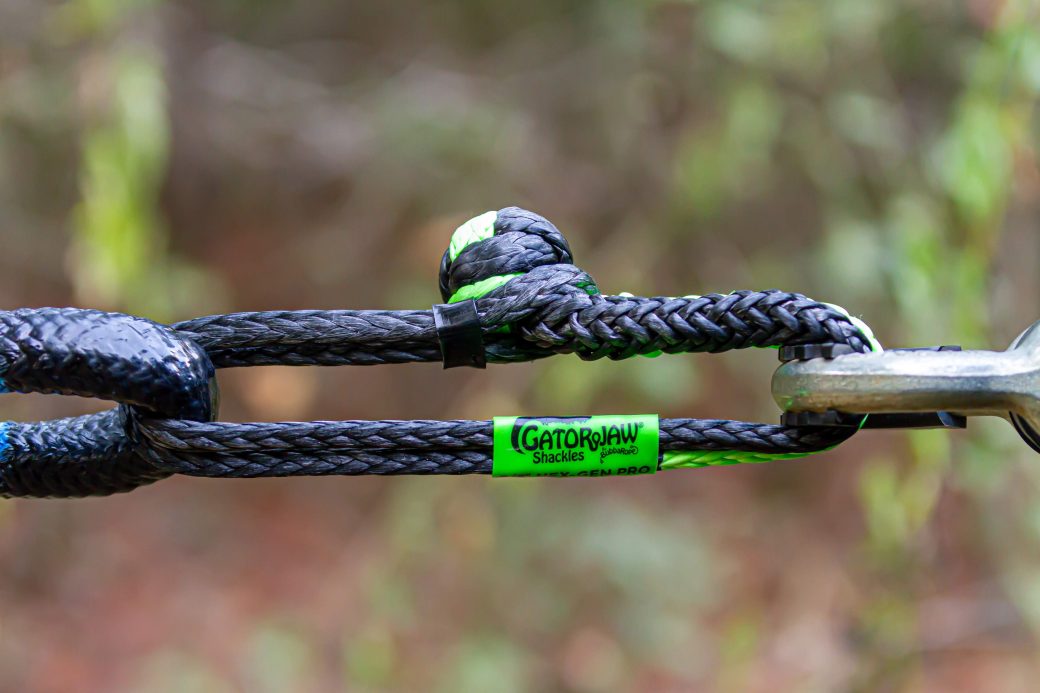 We should add that there is a green, Gator-Jaw-branded rubber sleeve on the shackle, so you could position that sleeve accordingly if you are concerned that your recovery point is perhaps a bit sharp. It may not fully protect the shackle or even be there for that reason but it should certainly help. If your recovery points are sharp and you are using any non-metal rope recovery options, consider grinding those edges down a bit.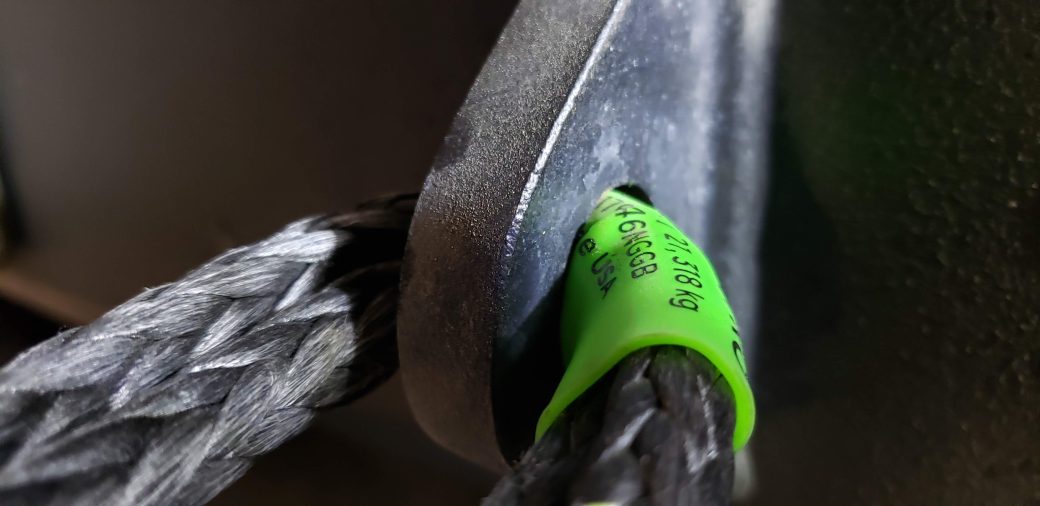 Keep in mind that all synthetic rope has the potential to not only become cut or frayed but also melt quite easily—it's just the nature of the materials used in the products. Unfortunately, people leave negative reviews because they're not using caution or they're not using the product itself correctly.
We also wondered if the little retaining band, which is made from a two-part flexible, high-performance urethane elastomer, according to Bubba Rope, was going to stretch or break over time but, after using our shackles a bunch over the past few weeks, we're no longer concerned. That band (which Bubba Rope calls the "BR Slider") should not be stretched, pulled, or otherwise tampered with, of course—just slide the thing to close the loop… that's it. If you stick to that, it'll likely last as long as the shackle.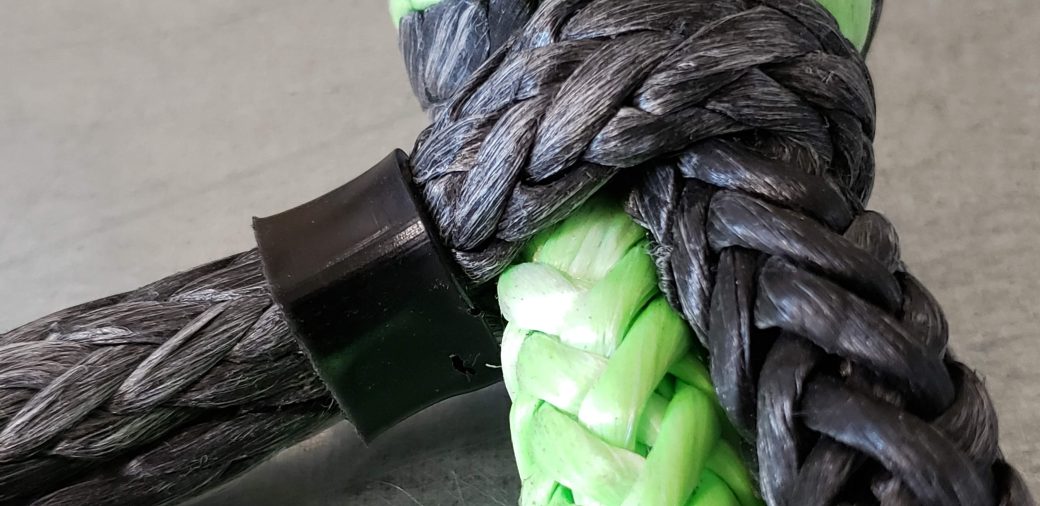 Ease of Use & Performance
The Gator-Jaw is so easy to use, it will almost certainly replace D-rings in our primary recovery kit. In two simple steps—illustrated below in the animation from Bubba Rope—you can attach one of these super-strong synthetic soft shackles to a recovery point and get to work. No more dangerous steel; no more pins to lose.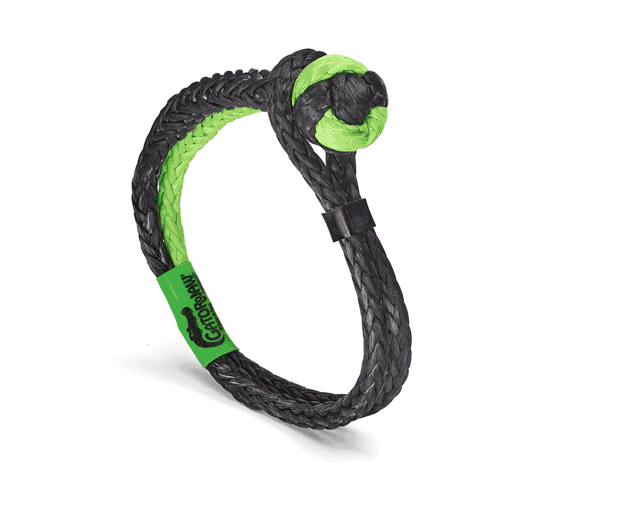 Speaking of pins, we saw more than a few reviews where people were saying that you can or should run your hitch pin directly through the loop of the Gator Jaw. This is a bad idea. You should never use your hitch pin for recovery operations. It could bend or break, causing serious harm to something or someone. Don't do that.
We staged a few tests using the Gator-Jaws as our shackles and they did what they were designed to do perfectly. It's a bit difficult to photograph a product like this at work because it always looks the same but we did test them out on vehicles "stuck" in sand, mud, and on a small but tire-stopping trail drop-off with a dead-weight Jeep, which we winched over the obstacle using the Gator-Jaw synthetic shackles. We also pull-tested at a few odd angles to see if the shackles shifted or slipped—all good; no issues whatsoever.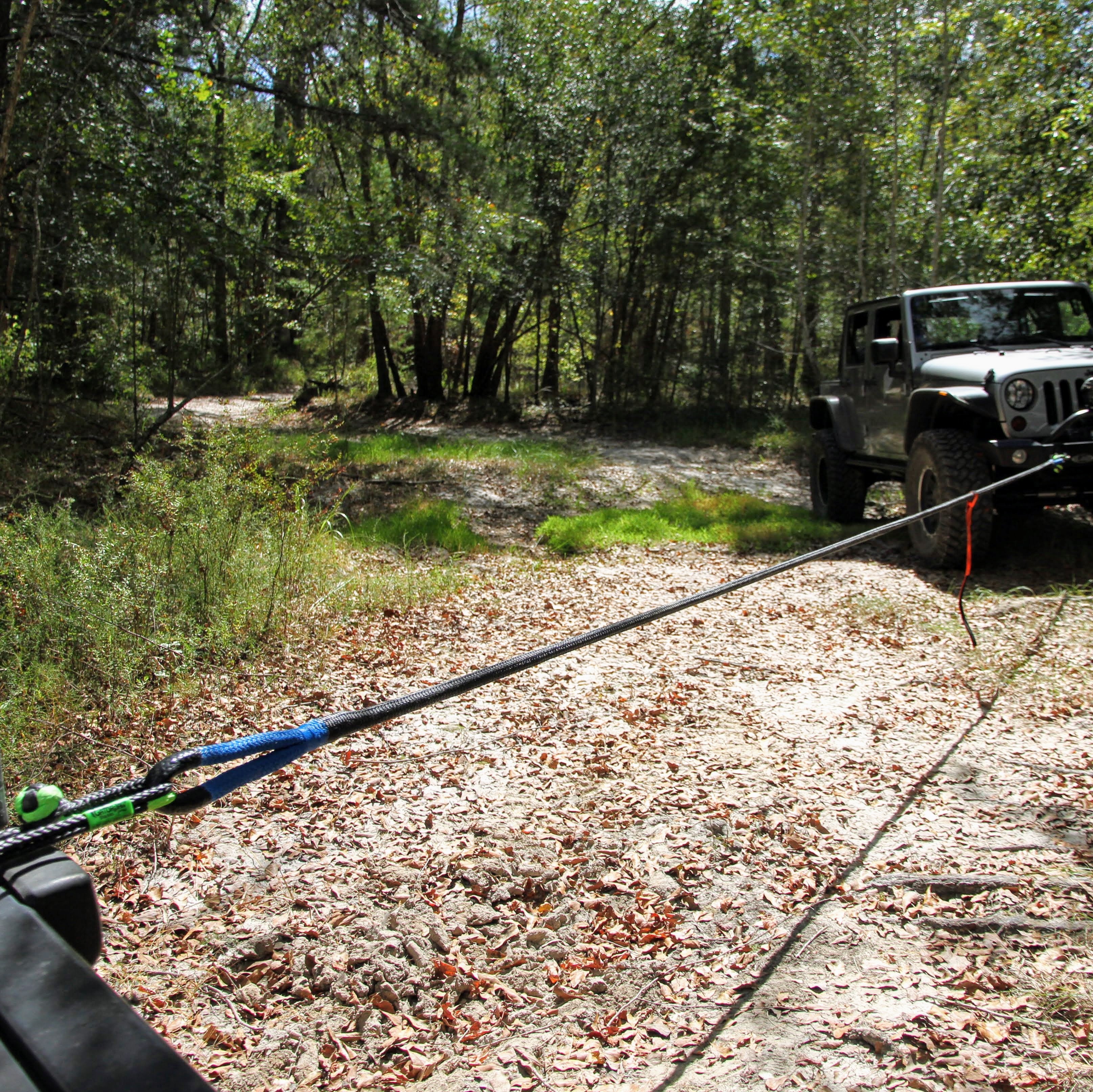 Outside of our own staged testing, we did get to use Gator-Jaws to recover a stuck pick-up truck in the woods last weekend. Of course, if it had been a JEEP we wouldn't have needed help, but in any case, the Gator-Jaws worked perfectly. 😉 Neither shackle came loose or moved at all, once under load, and they weren't "stretched" out afterward either. There were also no cuts or frays in the rope because our recovery points were smooth enough and we didn't violently snatch the stuck vehicle, as some incorrectly do during recovery operations.
By the way: you can use the Gator-Jaw with just about any recovery rope. Of course, we highly recommend an authentic Bubba Rope recovery rope. We love ours, which lives in the Jeep permanently. Next, we need to replace our old-school (and more dangerous) wire winch line in our WARN PowerPlant with a Bubba Rope synthetic winch line. 🙂
Care and maintenance of the Gator-Jaw synthetic shackles is a simple deal—just wash them off with clean water and allow them to air-dry. While they are UV protected, we don't recommend leaving them in the blistering hot sun for hours at a time. Also, these shackles are made for recovery operations, not long-term towing, especially on highways or interstates. Please don't do that.
Value
At about $44 each, the Bubba Rope NexGen PRO Gator-Jaw Synthetic Shackle is only a tiny bit more expensive than we'd like to see. A good price point for us would be around $30 or maybe $35. That said, ALL synthetic rope is expensive right now. We'd also like to see some kind of stronger sleeve to protect against those sharper-edge recovery points for this kind of money.
You can (and should) buy the Bubba Rope NexGen PRO Gator-Jaw Synthetic Shackle on Bubba Rope's official website, or on Amazon if you wanna help us out a little bit. These are much better than steel D-rings in almost every way.
Bubba Rope 176746NGGB Heavy Duty 3/8" Synthetic Shackle NexGen PRO Gator Jaw Breaking Strength of...
STRONGER THAN STEEL: NexGen PRO Gator Jaw has a breaking strength of 47,000 lb. load...
ADVANTAGES OVER STEEL SHACKLES: NexGen PRO Gator Jaw will never break or rust due to...
IMMUNITY ABOVE ALL: Made from High Modulus Polyethylene HMPE; offering high strength, long...
SPECIFICATIONS: NexGen PRO Gator Jaw has a 3/8" diameter with a 6.5" bow width for...
100 % MADE IN THE USA PRECISION AND ENGINEERING: NexGen PRO Gator Jaw Synthetic Shackle...