Taking a break from tools and gadgets for a sec, this is something we wanted to cover because it's hot as hell outside and this topic has been in the news more than normal lately…
Recently here in North Florida, another young child perished from heat exhaustion because a parent forgot the child was in the backseat. A police dog also met the same fate last month. It's awful. It's heart-wrenching. And it's preventable.
So far in 2016, 23 children have died as a direct result of being left inside a hot vehicle. Annually, almost 40 die. Since 1998, almost 700. While 17% were ruled "intentional" (and there's a special place waiting for those people), some were truly accidents, as impossible as that is for most of us to understand.
+50° In Under 60 Minutes
Even when it's the perfect day outside to many, an outside temperature of 80° can result in an interior vehicle temperature that exceeds 120°-135° within an hour, depending on the color of the car's interior. Just imagine what it's like when it's 100°+ outside, like it is here today. Studies have also shown that cracked windows do little, if anything, to alleviate such extreme temperatures.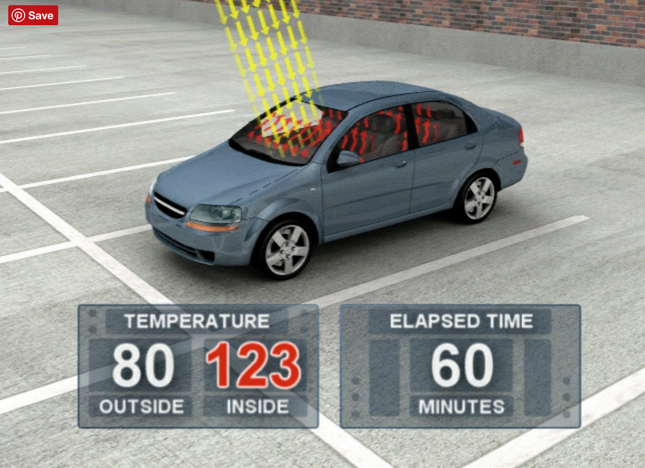 Preventative Measures
Many have said that leaving a cell phone, left shoe or other object most people just never forget in the backseat is a good solution. Beyond the shoe idea, lots of people often forget phones and briefcases in the car. Not to mention, most people think they're just entirely too responsible and that these tragedies will never happen to them. Yet, some of the parents in the cases mentioned above were seemingly very good parents. It's really hard for the rest of us to grasp, we get that.
Preventative Solutions
Surprisingly, there are few solutions that are readily available today, and automobile manufacturers have yet to provide built-in systems to help prevent hot car deaths. We think it's coming, though.
There are lots of innovative ideas that are either in prototype mode or are awaiting funding to go-to-market. But there a few that are available to be used out-of-the-box today. Here's a summary of what we found on both fronts:
Developed by two Tampa, FL dads, the Sense a Life device has three components: the child sensor, the base unit, and a mobile app. A pad sets under the child in the car seat, which activates if at least 2lbs is detected. If the driver's door opens, the base unit chimes and a voice alert reminds the driver of the precious cargo. If for some reason the driver ignores the alerts, a mobile app alerts the driver again, and then a second person when a certain amount of time passes with the child still in the seat.
Sense a Life appears to be very close to market and a promising solution, but the company is looking for partners to help them get there.
Here's a video from the Sense a Life team:
Kars 4 Kids, a car donations organization, has developed an Android App that simply pairs to your car's Bluetooth and reminds you when you stray too far from the vehicle and its connection is lost. It's a simple concept and is available now, but it's just not foolproof enough for us. As mature as Bluetooth is, it's certainly prone to issues. Still, this could be a short-term solution that is certainly better than nothing until you can get a more advanced system in place.
When an Intel employee experienced a hot car tragedy first-hand, the company set out to solve the problem. Marcie Miller, a new mother and an engineer within Intel's Internet of Things Group, was asked to evaluate possible solutions that would prevent accidental hot car deaths. As an Arizona resident, who once worked for the Arizona Cardinals as a professional cheerleader while also holding down her day job at Intel, Miller worked with Intel engineers to develop the Smart Clip.
The Bluetooth-enabled Smart Clip device operates like a safety buckle while also connecting to a smartphone app that will report back on ambient temperature and the Smart Clip's remaining battery life. The most important feature, however, is that the Smart Clip will send an alert should the device still be enabled while falling out of range with the smartphone, preventing a forgotten toddler from being left behind.
While the Smart Clip in its current form is just a prototype, Miller said that her team is working with a multinational partner to bring this device to market.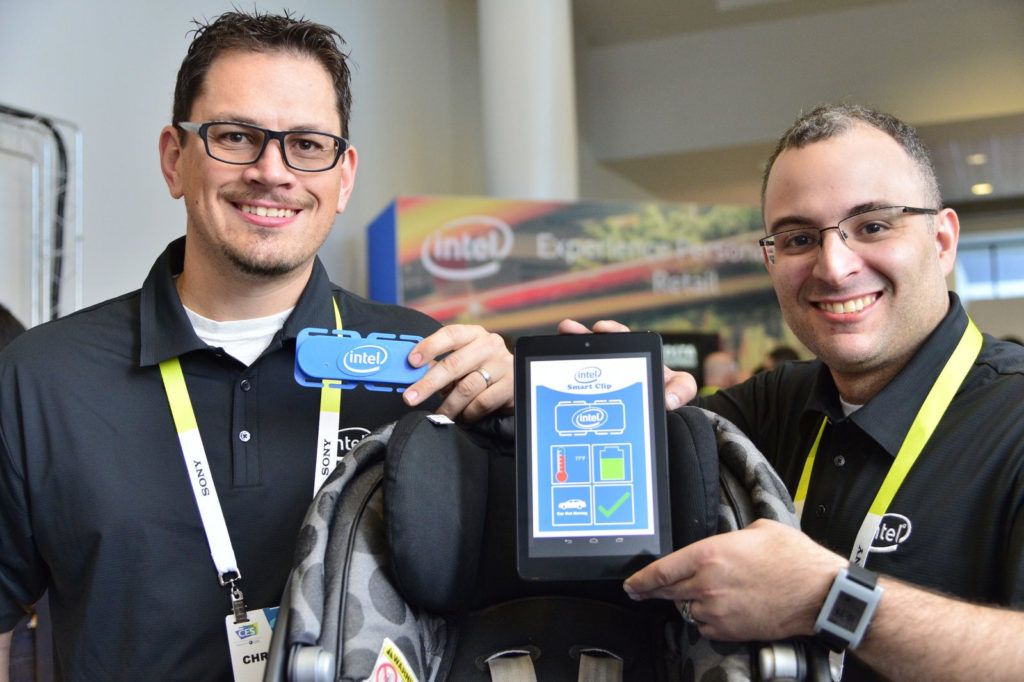 The ChildMinder system is already available in two formats: a Soft Clip ($45) that hooks to the child restraint seat (CRS) shoulder harness or the Elite Pad ($53), which uses a pad similar to the Sense a Life system we covered above.
ChildMinder requires you to carry a key fob that sounds an alarm for six seconds once the driver is 15′ away from the car seat. And while carrying an extra key fob around might be clunky, this is the simplest of systems because it doesn't require Bluetooth pairing, app configurations or running wires and switches. Obviously, one could forget their ChildMinder key fob somewhere, which would render the solution useless.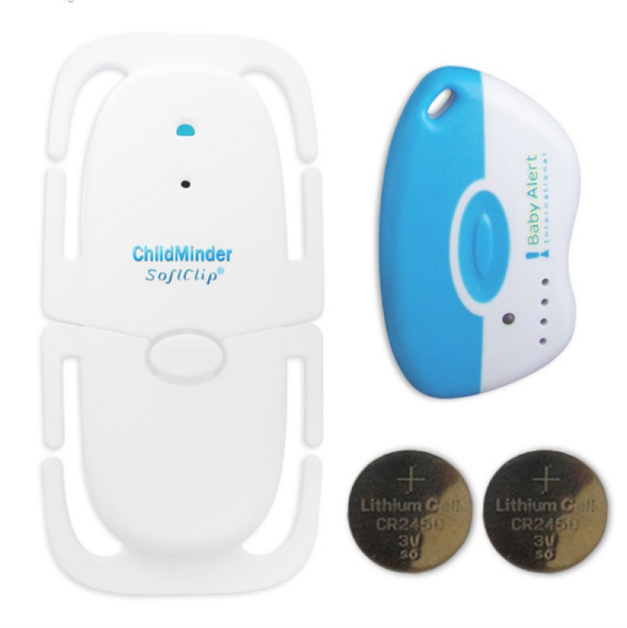 Walmart partnered with EvenFlo, a well-known child safety products manufacturer, to develop its SensorSafe technology built right into several of its popular child restraint seats.
The SensorSafe system works a bit differently than the others, in that the sensor plugs directly into the vehicle's on-board diagnostics connector, usually located on the bottom left of the dashboard, by your left knee. A chest clip built into the EvenFlo car seat activates the device and will alert you if that clip is undone. And since the device ties directly to the vehicle's electronic systems, it monitors the car's status, thereby reminding you of the child's presence when the car shuts off.
The Ride-n-Remind is a more complex system in that it requires the installation of switches and wires. It's also the better system for those who aren't using car seats (e.g., for pets, older children or anyone not requiring a car seat, but perhaps has some sort of disability).
The Ride-n-Remind ($95)—which we believe is the same as the Brilliant Backseat Reminder—works by detecting the opening and closing of the rear vehicle door (assuming that's where the switch was installed). When the backdoor is opened before the vehicle is started, the system recognizes that something, or someone, was put in the rear of the vehicle. When the driver arrives at the destination and leaves the vehicle, the system actives a moderate audio alarm to remind them about the cargo. If this alarm is not turned off in 40 seconds, the system activates the vehicle's horn to draw attention and can only be deactivated by opening the door and pressing a button.
Whatever You Do… Do Something!
Whether any of the available devices in this article work for you or not, do something. Come up with some kind of a system to remind yourself that you have children or pets in the back of your vehicle. As we said earlier, nobody believes tragedy will ever strike them. But life moves fast and we're all extremely pre-occupied these days. Pay attention.